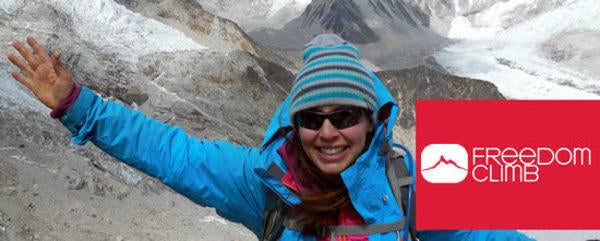 Freedom Climb
The purpose of The Freedom Climb is not merely to climb mountains but to join with Operation Mobilization and climbers from around the world to bring awareness of vulnerable women and children. The Father's House partners with OM and their projects to help fight against human trafficking.
The first climb, in January 2012, 48 women from seven countries climbed Mt. Kilimanjaro to declare freedom for those in bondage. Since then, The Freedom Climb has hosted climbs in the US, Australia, New Zealand, Philippines, Ecuador and Mt. Everest base camp. In July 2014, women from The Father's House made their first climb with OM in Colorado.
Climbing mountains is a symbolic gesture of what women and children around the world go through every day. The climbers give voice to the voiceless—those who cannot climb out of life's circumstances on their own.
In February 2015, two men from The Father's House, Tony Criss and Brian Hicks, joined the effort in this war against human trafficking and climbed Mt. Kilimanjaro. The funds they raised will go specifically toward a safe house in India for women rescued from slavery and oppression.
Freedom Climb February 2015 from The Father's House on Vimeo.
Prayers are always welcome for this ongoing fight.